Euroapotheca begins operating in Sweden – acquisition of Apoteksgruppen i Sverige Holding AB is fully completed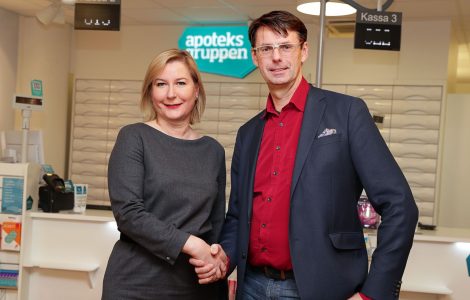 International pharmacy chain Euroapotheca, UAB, which owns pharmacy networks in the Baltics and Central Eastern Europe, has begun operating in Sweden. Euroapotheca completed the acquisition of Apoteksgruppen i Sverige Holding AB (AGHAB) on 8 February, becoming one of the region's largest pharmacy networks. The company unites a network of 189 Apoteksgruppen pharmacies in Sweden, which will be provided with all franchise and management services. In another, related deal, Euroapotheca will finalise the acquisition of 156 Apoteksgruppen pharmacies, currently owned by private investors, by the close of Q1 2018.
Euroapotheca is now the fourth largest player in Sweden, with a market share of approximately 9 per cent – uniting a pharmacy network of over 600 pharmacies and EUR 750 million in revenues across six countries.
"Our group decided in late 2017 to concentrate on active strategic development, so we started looking for potential acquisitions in the Nordic countries and Central and Eastern Europe. We are delighted that the scope of our business has doubled within a very short period, and that we can start operating on a new market in Sweden. In cooperation with the current Apoteksgruppen management team, we will seek to grow successfully and continue expanding the pharmacy network.
We believe that Swedish customers will appreciate our unique offering and will benefit through better pricing and improved service, as well as greater choice and accessibility," says Raimonda Kižienė, CEO and Chairman of the Board of Euroapotheca.
"We are pleased that the acquisition was completed as planned. The finalisation of the transaction means that Apoteksgruppen will have a new, responsible owner that will further develop the company on the Swedish market. Together with Euroapotheca we will be very well positioned to reshape our network, transforming it from a franchisee pharmacy chain into an integrated pharmacy chain, with centrally operated pharmacies as well as a strong franchise solution. This will make us unique in the Swedish pharmacy market," says Tony Johansson, CEO of Apoteksgruppen.
Euroapotheca will provide full franchise, management and service support to the network's franchisee pharmacies operating under the Apoteksgruppen brand, and no previous agreements or terms will be changed. Euroapotheca will work together with the local Apoteksgruppen management team and pharmacy staff. Due to the change of AGHAB's ownership, Euroapotheca has appointed a new board, which consist of:
• Chairman of the Board: Raimonda Kižienė, CEO and Chairman of the Board of Euroapotheca
• Rūta Lapinskienė, Head of Sales and Marketing and Board Member of Euroapotheca
• Stig Tornell, CEO Mekonomen Sweden and former CEO Kronans Apotek
• Gunilla Rittgård, CEO Mediq Sverige, Board member of Länsförsäkringar Göteborg and Bohuslän, former chairman of the board of AGHAB
• The board will consist of five members, one member will be appointed in the nearest future. .
Background
On 28 November 2017, Euroapotheca signed an agreement with the Swedish government to acquire the state-controlled company AGHAB, which provides franchise and management services to 189 pharmacies operating under the Apoteksgruppen brand. Euroapotheca acquired 159 pharmacies in the Apoteksgruppen network: 156 privately owned pharmacies and three pharmacies directly owned and operated by AGHAB. Both transactions were approved by the Swedish Competition Authority on 1 February 2018.
About Euroapotheca
Euroapotheca is an international group of companies managing retail pharmacy networks and wholesale companies in Lithuania, Latvia, Estonia, Poland, Sweden, and Ukraine. Euroapotheca Group currently has 3,800 employees and 643 pharmacies operating in six countries. Euroapotheca manages the pharmacy networks Eurovaistinė (270 pharmacies) in Lithuania, Apoteksgruppen (189 pharmacies) in Sweden, Euro-Apteka (83 pharmacies) in Poland, Euroaptieka (52 pharmacies) in Latvia, Euroapteek (45 pharmacies) in Estonia and Euroapteka (4 pharmacies) in Ukraine.
Euroapotheca is a part of the international group of companies Vilniaus Prekyba, one of the largest retail trade companies in the Baltics and Central Eastern Europe. In 2015, Vilniaus Prekyba was ranked 42 in the Central Europe Top 500 Companies list compiled by Deloitte, an international audit and consultancy firm.
About Vilniaus Prekyba
Vilniaus Prekyba's ultimate beneficial owner (UBO) is Nerijus Numavičius, who is also UBO of investment company NDX Group, which controls Doggy AB, the largest dog and cat food producer in Sweden. Doggy produces products under its own brands: Doggy, Mjau, Katty, Bozita and Robur. In addition to the Swedish market, Doggy is also present in other Nordic countries and in Germany, Russia, Poland and the Netherlands. Companies in UBO's corporate group operate in 18 countries and have over 40,000 employees.